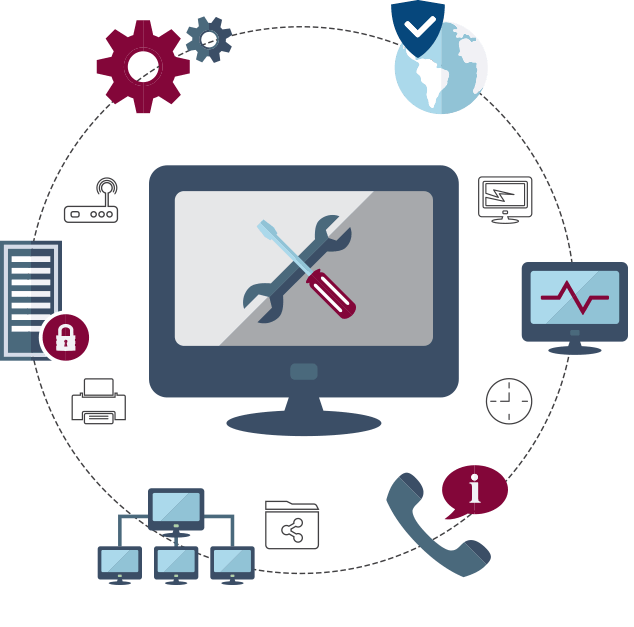 An Infrastructure Assessment is an opportunity to get a complete diagnosis of what is happening in your current environment. It helps to find gaps in the current ecosystem along with recommendations on how to address these gaps.
A complete Infrastructure Assessment should include a documented review of the following areas:
Server Environment
Application Delivery
Print Environment
Network
End User Devices
Security
Backup
Policies and Procedures
Why Arridae?
A dedicated industry certified collaborative team with experience and expertise produces the highest quality of work.
Focused more into manual testing over automated testing to avoid false positives.
We assure you high quality testing on time and every time.
Get complete insight into your security risk – Know more about Arridae's Security Services
Contact Us
Why is Infrastructure Assessment Necessary?

Infrastructure Assessments are often the first step of securing your IT environment. The main reason for securing your environment are as follows:

Identify your security issues requiring immediate attention.


Identify your vulnerable point.


Train your new IT employee.


Identify the reason for the recent serious downtime

Our Approach

Infrastructure Assessment is carried out in various phases to ensure clear planning and delivery model.

Scoping: Once we receive the initial order, we identify the scope of our work. We offer both the internal and external security assessment as a part of our infrastructure assessment.


Information Gathering: We gather as much as information as we can about the target organization in order to understand the operating condition of the organization, which allow us to assess the infrastructure security risk accurately.


Threat Modeling: We evaluate the types of threats that may affect the targets that are in scope. The types of attacks and likelihood of these threats will serve to inform risk rankings/priorities that are assigned to vulnerabilities throughout the assessment.


Vulnerability Analysis: We check the services that were found running in the information gathering phrase and finds the vulnerabilities that are there.


Exploitation: After discovering all the vulnerabilities, we then try to exploit those vulnerabilities and try to escalate our privileges as well.


Post-Exploitation:Once exploitation is done, the value of the compromised infrastructure is determined by the value of the data stored in it and how an attacker may make use of it for malicious purposes.


Reporting: After gathering all the assessment data, we analyse the data and provide you with a complete easy to understand report containing criticality level, risk, technical and business impact. In addition, we provide a detailed remediation strategy for each discovered vulnerability.


Quality Assurance: All assessments go through a number of technical and editorial quality assurance phase.


Presentation: The final phase in infrastructure assessment will be a presentation of all documentation to you. We will walk you through the information provided, make any updates needed, and address questions regarding the assessment output. Following this activity, we'll schedule any formal assessment, if applicable.

Deliverables

Comprehensive infrastructure assessment report consisting of Executive Summary, detailed vulnerability analysis and recommendations with prioritized action plan.

Executive summary explains in non-technical terms how the risks can affect business continuity and potential financial losses that can be incurred as the result of a breach.

The report reveals a detailed description of all infrastructure vulnerabilities that were discovered during the assessment, the techniques and methodologies used during the assessment, security risk levels in order of priority, recommendations for fixing the issues, and suggestions for tightening up infrastructure security as a whole.